Local HVAC Services & Electricians Serving Indian Springs Village, AL 
If you're looking for local HVAC service experts or a company to take care of all your electrical needs, contact Polar Bear Services today! We are the smart choice for property owners in Indian Springs Village and throughout Shelby County, Alabama!
Residential HVAC Services In Indian Springs Village, AL
If your HVAC system isn't working right or has completely broken down, reach out to Polar Bear Services. Our locally owned and family-owned HVAC company offers the best heating and cooling services in Indian Springs Village, Pelham, and Hoover as well as throughout the Greater Birmingham metro.
Homeowners can rely on our highly trained and skilled specialists to diagnose HVAC issues and have confidence in knowing we have the solution. Whether that's repairing your current HVAC system or installing a new system, you can depend on our team of HVAC specialists to keep your home warm in the winter and cool in the summer! Reach out to Polar Bear to learn more about our residential HVAC services in Indian Springs Village!
Commercial HVAC Contractors Serving Indian Springs Village, AL
In addition to our residential services, Polar Bear Services also offers commercial HVAC services in Indian Springs Village. Whether you need routine HVAC maintenance or a new system installed, you can rely on our team to deliver exceptional service every time.
Moreover, we are Trane® Comfort Specialists and also service all types of HVAC systems. Our experts will work diligently to ensure your business operations aren't interrupted, and that we provide the best system for your company's needs.
Call the Bear today or simply fill out our online form!
Indian Springs Village, AL Electricians
If you have a faulty light switch, need a ceiling fan installed, or have another electrical issue, reach out to Polar Bear Services. Since most electrical components and wiring are located behind walls and out of sight or are not safe to touch without a working knowledge, having a licensed electrician handling your electrical work is best. At Polar Bear Services, our Indian Springs Village electricians are ready to help residential and commercial property owners with all their electrical needs.
From minor electrical repairs to brand-new construction, you can rely on our experienced electricians. Reach out today to request a no-obligation estimate.
Ductless Mini-Split Systems In Indian Springs Village, AL
If you're looking for a heating and cooling solution that allows you to heat or cool only the rooms you want or need, improve efficiency, and reduce energy costs, a ductless mini-split system might be the ideal solution. In fact, it's becoming an increasingly popular option in Greater Birmingham and one that Polar Bear Services can help with!
We offer ductless air systems that are an affordable and energy saving replacement or add-on to your existing HVAC system. Contact us today with questions or, to get started, schedule an appointment!
Improve Your Indian Springs Village's Indoor Air Quality With Help From The Bear
Indoor air quality impacts your health and comfort every day. In fact, many common symptoms associated with allergies and colds are the result of poor indoor air quality. While regular HVAC maintenance can help, it may not be enough for your home.
At Polar Bear Services, we offer indoor air quality services in Indian Springs Village that remove trapped dust, dander, and other irritants from your home.
Our solutions include:
Air duct cleaning
UV lights for mold
Hepa filter installation
HVAC maintenance
You can improve your home's indoor air quality and provide the best living environment for your family; simply contact the Bear to get started!
Commercial Refrigeration Services In Indian Springs Village, AL
At Polar Bear Services, we are more than an HVAC company. That's right, we also offer full-service commercial refrigeration solutions. Let our team service, repair, and maintain your company's refrigeration systems, coolers, freezers, and icemakers.
When you hire our team to handle your commercial refrigeration needs in Indian Springs Village, you won't regret it. We deliver fast service, provide high-quality workmanship, and offer competitive rates.
If you're experiencing a commercial refrigeration problem or are looking for a new solution, give us a shout.
Why Choose Polar Bear Services In Indian Springs Village, AL?
We're locally owned and family-operated
Polar Bear Services is headquartered in Leeds, Alabama and has been servicing Greater Birmingham, the Huntsville metro, and Central Alabama since 2011.
We are industry specialists
Our team of HVAC specialists and electricians are highly trained and fully licensed. You can count on us to deliver the best possible service every time!
Our one-stop shop is always ready to help
If you're ever having a problem with your HVAC system, need routine maintenance, or are looking for an electrician, just pick up the phone and call the Bear!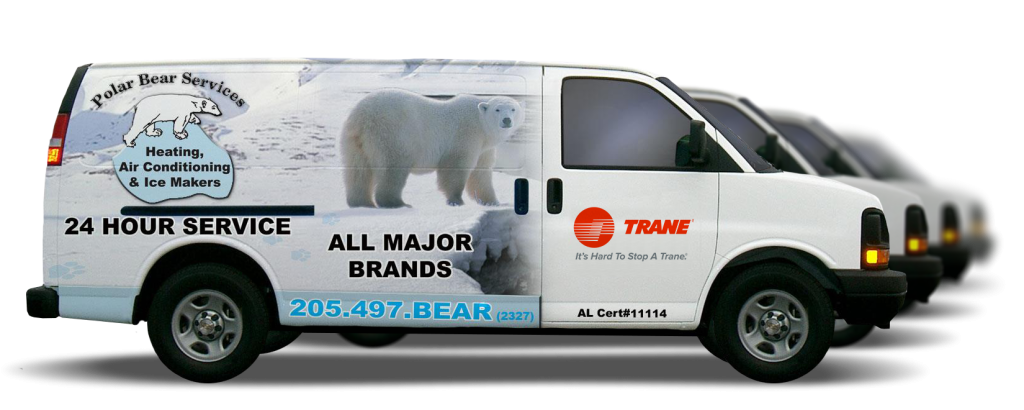 if you're having a problem with your heating or air, just pick up the phone and call the Bear…
What Our Customers Are Saying
We were having issues with our AC not working and we called Polar Bear to come out and check the problem. As soon as the tech arrived, he looked at my unit and immediately saw the problem. He fixed our unit that day and we haven't had any issues since. The tech was very knowledgeable and very timely! Would recommend this company to anyone!
They were so nice and helpful! Polar Bear came right out when I needed them to. I will definitely use them every time from now on!
Unbelievable service and company! I called in the later hours of the day and they showed up within 30 minutes! Jamal was very professional and had our ac unit fixed within 2 hours! We have an older house and they were able to have the parts to fix everything! I highly recommend this company and would give them 10 stars if google would let me!
I was very pleased with polar bears installation of my new system the man that came to work at my house were very clean-cut and courteous and I would highly recommend them to anyone in need of heating and air service
When the technicians came for the install, they were very polite and worked hard. It took them every bit of the 4 hours they warned me about, but the owner came in at the end and inspected their work and we have been very satisfied with the end result. I highly recommend.
Excellent service! Polar Bear Services sent someone out THE SAME DAY. Their prices were reasonable compared to companies we've used in the past. We can't recommend this company enough and will use them for all of our future HVAC needs.
Good service with good timing!
Replaced the duct work and registers throughout the house, and a new HVAC with additional returns. Prices were better than most and they did a great job. Would highly recommend.
I called A Advantage Air for commercial refrigeration and air conditioning service and repair in Birmingham Alabama first and they told me polar bear was the experts ice equipment and filter systems, Thank you!